You booked your accomodation at the campsite Albret Plage ? Excellent choice! You will be 500 meters from the surf school! It will be the right time to try surfing and have great fun with your family and friends! You might even get infected by the virus of surfing..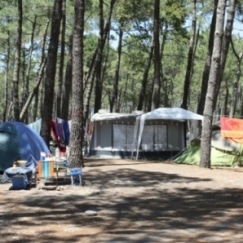 You will spend a great holiday in this nice 3-stars campsite, in a nice pinewood park just 2 steps from the ocean and the village of Vieux-Boucau, you will spend a rejuvenating holiday between nature and ocean and enjoy the local festivities organized in the surrounding villages.
We will be grateful welcoming you at the South beach of Messanges, with direct access from your campsite. We are happy to offer you a 5% discount for all online bookings!
To do so, select the surf course that suits you the best on the Surf Course page and enter discount code web005 when you validate your payment (non applicable on "Spring" surf course).