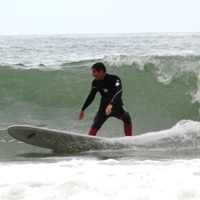 CYRIL wishes to share with you his passion for surfing! He is a skiing and snowboarding instructor on the 3 Valleys (French Alpes) and instructor for several sports activities (mountainbiking, canyoning, hiking..). You will benefit of his 25 years experience of sports teaching and his valuable advice for you to progress at your own rythm. It also offers its accommodation "huts of the ocean" and "la Caseta" quiet in a large park with swimming pool.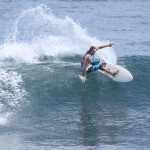 THE FAB
level 2 surf instructor , passionate surfer and adventurer in the soul, there surfing everywhere in the world and was not badly surf trip to his credit: Australia, Indonesia, Costa Rica, Nicaragua, Peru, Ecuador, Chile, the Galapagos Islands, the Caribbean and many others…Also competitor, he was champion of Guadeloupe shortboard and longboard and participated in a few Championships of France and WQS in Europe. He is currently the head of the hope Guadeloupe Surf, coach of young talents such as Leo – Paul Étienne (champion of the ISA U16 world and champion of Europe U16 in 2014, Thomas Debierre (champion of France U16 2015), Kim Vann (Vice-Champion of the world U18 in 2014 and champion of France U18 in 2015), and Gatien Delahaye (4th on the circuit pro-junior europe 2015) among other things.)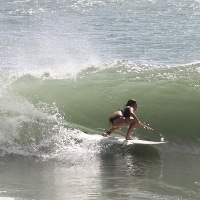 DEBY is back on the deck to welcome you at the surf school with charm and professionalism!