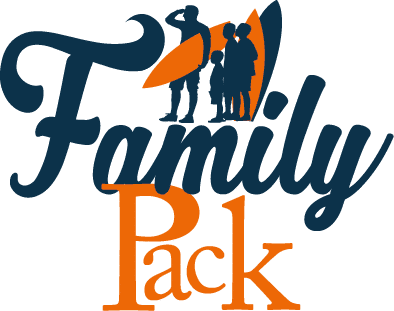 Messanges Surf School offers family surf classes, at a discounted rate, from 3 people. Surfing lessons are held in groups from 4 up to 8 people.
Discovery Surf Course: 32€/pers. instead of 35€
3-Days-Surf Course : 90€/pers. instead of 100€
5-Days-Surf Course: 140€/pers. instead of 155€
You can choose to register together, in a family group, or separately in groups of children, teens, adults or improvment group (made of intermediate surfers of all ages). If you choose to register separately, you should know that the course schedules may differ from a group to another. Depending on your progress you can switch groups and get your surf passport at the end of the course (5 days minimum) to assess your level.
You will be supervised by a qualified surf instructor. Passionate and pedagogical, he will be there to introduce you to surfing safely by choosing each day the best spot according to the conditions (houle, wind and tide).
You will learn to surf your first waves or you will perfect your technique: fun and progress guaranteed for the whole family!